Key words can be used when searching for rental properties to narrow down your search criteria, to help you find the best property.  
Key word searches can be done by using Advanced search options when searching on the website, or scrolling down on the search screen on the apps.  
 Note
Keyword searches check the description of every listed property, checking the description and displaying the matching results. If the word "pets" is included in the description, even if the phrase is "no pets allowed" then that property will also be displayed. Where applicable, rental properties can be filtered on "pets allowed" using the Advanced search options.
Go to www.zoopla.co.uk
Hover over To rent
Click on UK property to rent
Add in your search criteria and click Advanced search options 
Use the Keywords box to tailor your results


search for single words by typing them in, comma separated, e.g. garage, garden, bath
search for phrases by adding quotations marks, e.g. "wood floors"

Click Search to see your results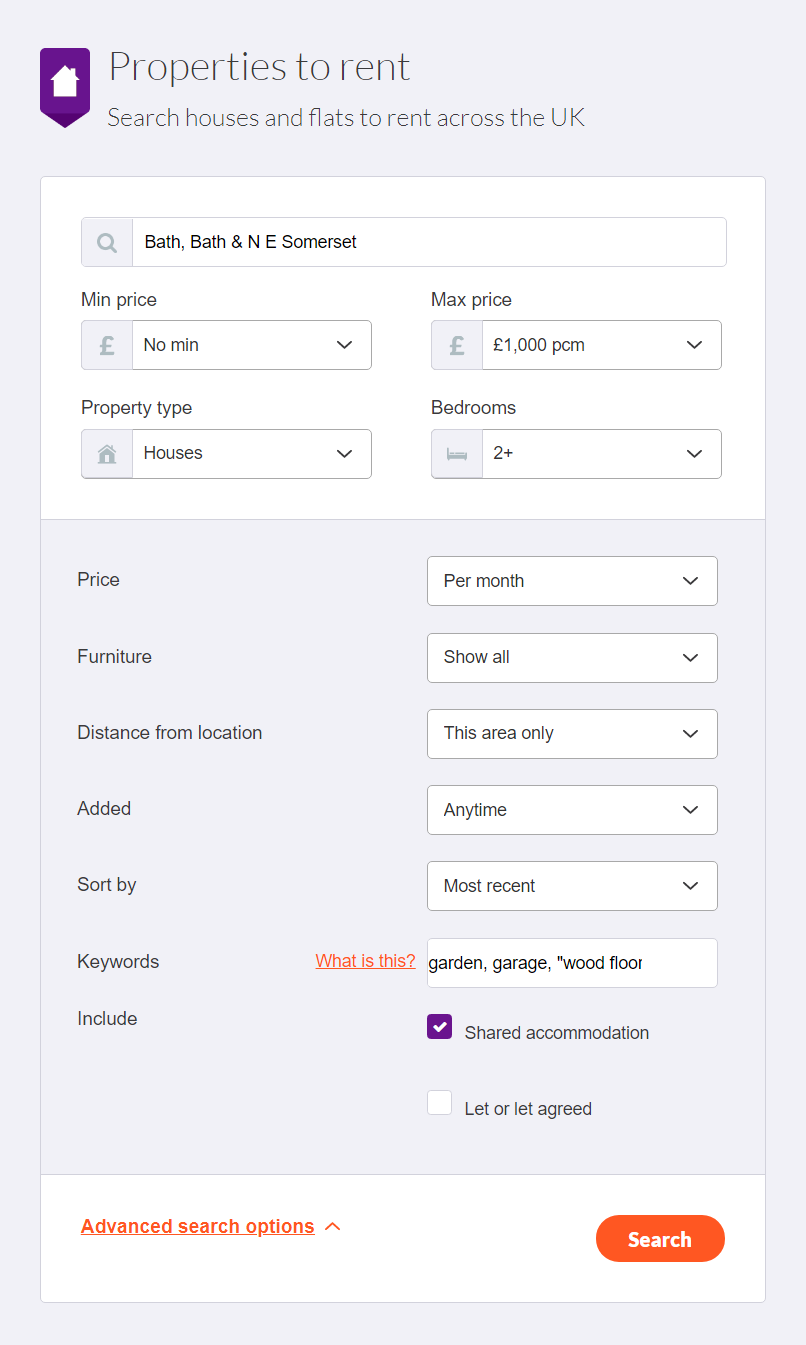 Tap Search on the app navigation 

Ensure the department is set to To rent
Set the location, remember you can use your phone's location services to set this

Scroll down and type your keywords into the Keywords box

search for single words by typing them in, comma separated, e.g. garage, garden, bath
search for phrases by adding quotations marks, e.g. "wood floors"

Tap See results
 Note
You can add keywords into any of your Saved searches by tapping Edit search 
To add keywords to Recent searches, tap the search and then Filter
Tap Search on the app navigation 

Ensure the department is set to To rent
Set the location, remember you can use your phone's location services to set this

Scroll down and type your keywords into the Keywords box

search for single words by typing them in, comma separated, e.g. garage, garden, bath
search for phrases by adding quotations marks, e.g. "wood floors"

Tap See results
 Note
You can add keywords into any of your Saved searches by tapping Edit search 
To add keywords to Recent searches, tap the search and then Filter